Connecting to Your Office Computer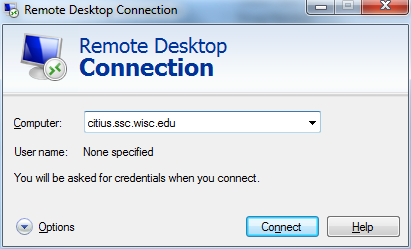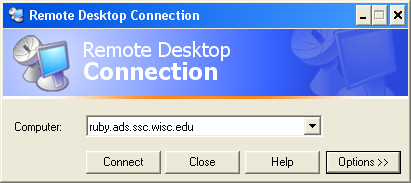 Once you connect, you'll see that the remote connection takes over your screen and you can almost forget that you're not sitting in your office. If you want to go back to using the computer you're connecting from, click on the minimize button in the toolbar across the top of the screen. When you're done, log out of your office computer as usual.
Remote Desktop allows you to connect to your office computer from home or another remote location. The result is similar to logging in to Winstat, though Winstat will generally give you better performance and stability. However, if you have software on your office computer that is not available on Winstat, remote desktop will allow you to use that software from home. Macs can also use Remote Desktop to connect to office computers running Windows (Macs connecting to Macs use Screen Sharing instead). Connecting to your office computer using Remote Desktop is a great back-up plan in case you can't log in to Winstat, and we suggest all SSCC members learn how to do so.
Setting Up Your Office Computer to Allow Remote Desktop
The first step is to set up your office computer so it will accept Remote Desktop connections.
Windows 7
In Windows 7, click the Windows logo button, right-click on Computer (to the right) and choose Properties. Then click on Remote Settings on the left and look at the choices under Remote Desktop.
If you only anticipate connecting to your computer from other computers running Windows 7 or Vista, choose Allow connections only from computers running Remote Desktop with Network Level Authentication. However, if you want to be able to connect to your computer from computers running Windows XP, MacOS or Linux, choose Allow connections from computers running any version of Remote Desktop. Note that if you choose the more restrictive setting you cannot change it without either coming to your office or finding a computer running Windows 7 or Vista to connect from.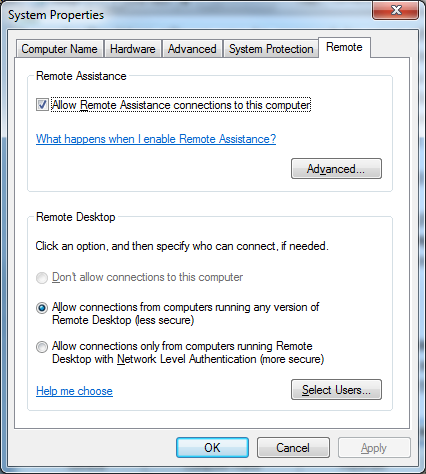 Next click on the Computer Name tab and note the full name of your computer (in the picture below it is citius.ads.ssc.wisc.edu–they are not case sensitive). You'll need it when you're ready to connect.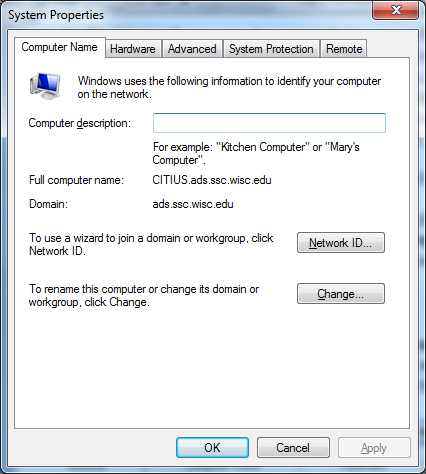 Windows XP or Vista
In Windows XP or Vista, click Start, Settings, Control Panel, and then System. Choose the Remote tab, and check Allow users to connect remotely to this computer. While you are here, note the name of your office computer (in the picture below it isruby.ads.ssc.wisc.edu). You'll need it when you're ready to connect.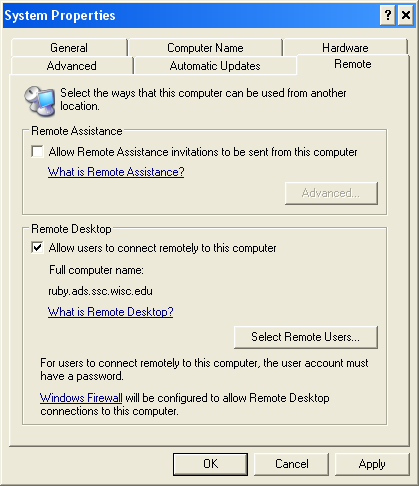 If you get an error message saying you need Administrator privileges, please contact the Help Desk. If you are the primary user of that computer we will be happy to make you an administrator for it.